How do you package and label my order?
We ship all orders in a small white air cushion envelope that easily fits through a standard mailbox. The air cushion envelope will be labeled discreetly without revealing the content or sender. The sender on the label will be HLS Holland, Valkenburgerstraat 152, 1011 NB Amsterdam.
This is how your order will look like, there a no HortiLab Logos or advertising on the envelope.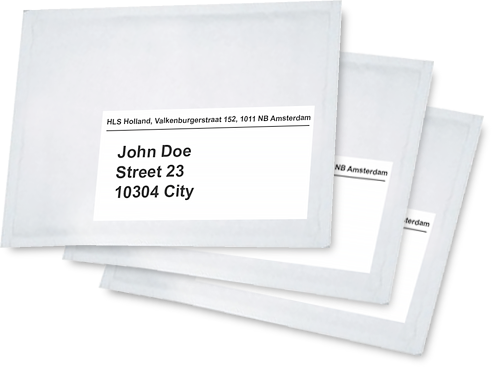 Do you ship seeds to my country?
HortiLab strictly does NOT send Cannabis Seeds to the United States of America, Germany and Australia. Each country has ist own laws concerning the purchase of Cannabis Seeds and growth of Cannabis Plants. In many countries it is illegal to grow Cannabis plants. Every Customer buying Cannabis Seeds from HortiLab.nl is responsible to act accordingly to the laws in the country he or she is living in. HortiLab dispatches Cannabis Seeds on the condition that customers will not use them in conflict with any applicable law in any country.
How will my order be sent?
All orders will be shipped by POST Priority Mail. The shipping duration is 3-4 working days within Europe.
How long does it take to receive my order?
Your order will instantly be shipped the same day we receive your payment. You'll also receive a notification email as soon as your order has been shipped. Payment by bank transfer usually takes 24 to 48 hours within Europe, shipping usually takes 3-4 days. Please notice that we can not influence the processing time of any bank or shipping company.
In case you think that we should have received your payment, but you haven't heard from us, please contact us. Sometimes customers forget to include their order number to a payment so it takes more time to assign their payment with an order.
How much is the shipping cost?
Standard post: € 2,50

Not traceable
Not insured
Delivery within 3 to 10 workdays
Registered post: € 9,00

Partly traceable
Insured
Signed for
Delivery within 3 / 10 workdays
Express: € 9,00 / €15,00 (depending on country)

Fully traceable
Insured
Delivery within 1 workday (after received payment)
I have a question that isn't listed here.
If there are any questions left don't hesitate to check out our awesome Customer Support by phone +31 202 330 038 or email support@hortilab.nl.